Axminster Heritage Centre has lost one of its longest-serving supporters with the death, on 25 May 2020, of Douglas Hull after a short illness. Douglas was extremely well-known locally for his public service having held a series of elected offices over a period of over 50 years, first as a Liberal and then as a Liberal Democrat. He served as a Parish, Town, District and County councillor, on Hawkchurch, Axminster, East Devon and Devon Councils respectively. He also served as Mayor of Axminster three times, in 1989/91, 2003/05 and 2015/16. From 2005 to 2013 he sat on the Town, District and County Councils simultaneously. Devon made him an Honorary Alderman in 2009, as did East Devon in 2019.
Of all the things he achieved in the political sphere, the one of which he was most proud was the establishment of the Millwey Industrial Estate, without which Axminster would be a much less prosperous and viable community.
At an Axminster Town Council meeting in 1987
Douglas was born at Lambert's Castle in 1938 to Walter Hull and Hilda (née Rockett). After Walter returned from war service in North Africa and Italy, the family, which by then included Douglas' younger sister Shirley, moved to Courshay Cottage, Hawkchurch. Douglas attended Axminster Secondary School, and after working for a time at a garage at Tytherleigh Cross, Douglas soon devoted himself more or less full-time to local politics. In 1976 he married Joy (née Gunn), and they lived at Woodbury Park, Axminster, before moving to Fosseway Close. Joy was for several years the head teacher at Lyme Regis Primary School, as well as serving as a local councillor alongside Douglas.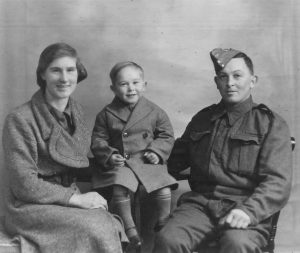 Douglas Hull with his parents Walter Hull and Hilda (née Rockett)
Douglas was for many years an enthusiastic supporter of our local schools, to which he and Joy donated a number of awards for prize-giving days. They both took a particular interest in initiatives to overcome dyslexia, which had blighted Douglas' own schooling.
As well as local charities and the United Reform Church, Douglas took a strong interest in Axminster Museum, which opened in 1982 in the Old Court House on Church Street. He organised many temporary exhibits there over the years, drawing on the growing collections of costumes and objects which he and Joy were developing, as well as the Museum's own collections. He was regularly to be found acting as a steward, welcoming members of the public to the Museum, and he raised very considerable funds for it by running a second-hand bookstall. If an event required Douglas to put on one of his historic costumes, then so much the better.
When Axminster Museum and Axminster Heritage joined forces, and the Museum moved to Thomas Whitty House on Silver Street (in 2015/16), Douglas served for a time as a Trustee, and for several years as Vice-Chairman of the Collections Sub-Committee, and as one of the regular stewards.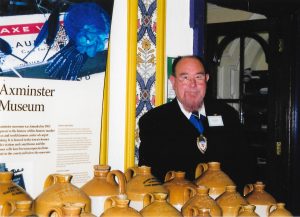 Douglas in the old Axminster Museum
In recent years, and in particular since Joy's death in 2017, Douglas has donated many objects, documents, photographs and old postcards to Axminster Heritage Centre. Of all his donations, the most impressive was from his collection of horse brasses. He had started his collection with brasses that belonged to his maternal grandfather, Reuben Rockett of Lambert's Castle, and it featured brasses typical of East Devon, West Dorset and South Somerset. These 'pie crust design' brasses form the core of the collection given to Axminster Heritage. It is a matter of great regret to us that Douglas did not live to see his brasses on display in the Heritage Centre, but at least he knew that but for Covid-19 they would have been on display in 2020, and that when the Centre re-opens, they will be there for all to enjoy.