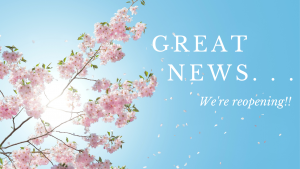 The country is now on the path set by the Government of gradual relaxation of Covid-19 restrictions. The first happened on April 12th when things like non-essential shops opened and we at the Axminster Heritage Centre are pleased to see many of Axminster's independent traders now open.  Under the Government plans, museums will be permitted to reopen from May 17th. At this stage we are planning to open on a limited basis and our opening dates from Tuesday 18th May will be:
Tuesdays and Thursdays 10am-4pm
Saturdays 10am-1pm
The limited opening hours will allow us to maintain our cleaning regime In between each day we are open.  We are also required to maintain all of our Covid-19 safety mitigations in place so we will still have a queuing system, one-way route, 2m social distancing and visitors will be required to wear a face covering. All of our interactives are still not available in accordance with government guidelines but our young visitors can still pick up a free activity booklet to be completed during their visit.
The entry price is still £3 for an adult and those who are 16 and under are free. Please remember that if you live in the EX13 postcode you can have free access on the last Saturday of each month.
It is not just the museum that is reopening. People wishing to renew memberships or book tickets for our planned coach trips can do so at the reception on days we are open. Also, our Bradshaw Meeting Room will have restricted opening after May 17th so please watch out for announcements of our workshops run by Heritage Alive.
We are following government announcements and hope that we can have further increased opening hours after June 21st. Please monitor our announcements on our Facebook and website pages.
We look forward to welcoming you soon!
For further information visit: https://axminsterheritage.org/
Or our Facebook page at: https://www.facebook.com/axminsterheritage