Axminster Heritage Centre is officially back and what a great first day back it's been! We'd like to express our thanks to our wonderful team of volunteers and to those who came down to help us celebrate the Centre's reopening. Among our visitors today was the Conservative MP for Tiverton and Honiton, Neil Parish who paid us a surprise visit with Axminster Heritage Centre Trustee, Andrew Moulding.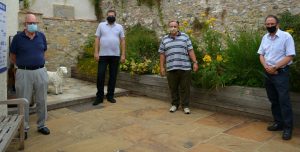 Ahead of next Saturday when face masks in public buildings becomes compulsory, Axminster Heritage Centre Trustee Andrew Moulding, Centre Manager Nigel Sadler, Conservative MP Neil Parish and volunteer David Knapman with their masks on.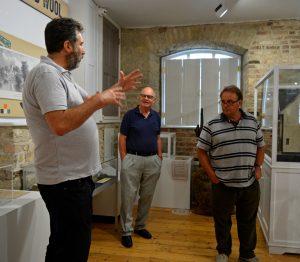 Centre Manager Nigel Sadler giving a tour of the Heritage Centre to MP Neil Parish with Trustee Andrew Moulding.
Centre Manager, Nigel Sadler said: 'It has been good to get the Centre reopened and welcoming back visitors. We have followed government and museum sector guidelines relating to Covid-19 to make the museum a safe place to visit and are pleased that visitors today adhered to our social distancing rules and one-way system.'
The Heritage Centre is next open on Tuesday 4 August, 10am – 4pm.