During Lockdown Axminster Heritage is running a series of talks and workshops on line.
These events will be run by Heritage Alive
The first was an online watercolour class hosted by Gina Youens on Saturday 23rd January 2021 The subject was
 Robin and Snowdrops in Watercolour.
this event has now ended

Our Next Event is:
Online Darning and Visible mending for beginners. 
February 13th 14:00 – 16:30 (2pm – 4:30pm)
Why throw away your favourite clothes that need repairing? Join this workshop and learn a new skill.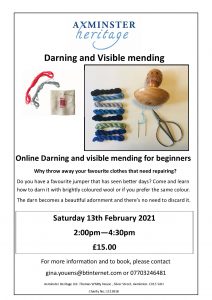 February 25th at 18:45 (6:45pm) Online Talk – Wildlife Gardening
Details to follow