Axminster Heritage, Heritage Alive
Presents
'Iron Age Hill Forts of Devon and Dorset'
A Zoom talk by Maggie Davidson
What do we really know about the Iron Age Hillforts around Axminster?
There are a number of Iron Age Hillforts within a 10-mile radius of Axminster including Lambert's Castle, Musbury Castle and Blackbury Camp. Slightly further afield are the larger and more imposing structures of Maiden Castle, Woodbury Castle and Hambledon Hill. This talk will examine how the different types of archaeological investigations and analysis of finds have informed, and in some cases transformed, our understanding of the purpose, construction and use of these sites.
Our speaker, Maggie Davidson, has a diploma in Archaeology and has taken part in a number of archaeological excavations and other investigations in the UK and Bolivia. With a passion for prehistoric and landscape archaeology Maggie also leads the Archaeology Group in the Lyme Regis U3A who have been researching and visiting some of these hillforts over the past nine months.
Thursday 22nd July 2021 7:00pm on Zoom
Tickets £3.50
Tickets available from Eventbrite.co.uk only

Axminster Heritage, Heritage Alive
Presents
'The Legacy of Slavery in Britain'
A Zoom talk by author Nigel Sadler, to commemorate the passing of the Slavery Abolition Act on August 1st, 1834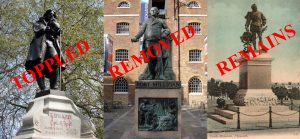 In 2020 the Black Lives Matter movement in Briton protested in many cities and towns, resulting in several monuments to men linked to the slave trade being torn down, removed or defaced. It opened up a discussion on how our past is portrayed through monuments, buildings and street names when linked to those involved in the slave trade or profited from the labour of enslaved workers. In this talk Nigel Sadler will illustrate how those involved in slavery and emancipation are remembered in the urban landscapes and discuss some of the more controversial statues and memorials.
Nigel Sadler has been researching and writing articles and books on slavery since 2000, with his latest publication being 'The Legacy of the Slavery in Britain', published in 2018.
Wednesday 4th August 2021 7:00pm on Zoom
Tickets £3.50
Tickets available from Eventbrite.co.uk only