'Farming and land use patterns in East Devon in the 1830s and 1840s'
by David Knapman
Wednesday 9th June 2021 at 7:30pm on Zoom
Tickets £3.50 From Eventbrite.co.uk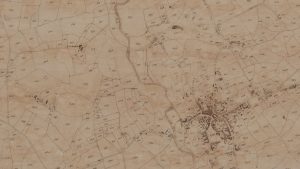 On Wednesday 9th June David Knapman will give a Zoom talk on what the parish tithe maps which were drawn up in the decade after 1836 tell us about farming, and about patterns of land ownership and use at that time. As well as focusing on Axminster and our neighbouring parishes, he will set them into context by comparing the patterns found in the Axe, Yarty and Coly valleys with the rest of East Devon, as far as Exeter (covering 70 parishes in all). Some of the patterns and contrasts are quite striking. He will explain how the process of tithe apportionment worked, and the reasons why it occurred. He will also show how the resultant information can most easily be accessed and clarify how it can be used to improve our understanding of this period, which saw the first stirrings of commercial family-owned farming in East Devon.
In the autumn David will give a follow-up talk (a live event, Covid-19 permitting) about 250 years of landscape change, illustrated by three example areas in Axminster parish. This will be supported by a temporary exhibition in the Heritage Centre.
https://www.eventbrite.co.uk/e/153663596955
Axminster Heritage Centre, Heritage Alive presents
'Axminster's Link to the Jurassic Coast'
a Zoom talk by Phil Davidson
Wednesday 16 June at 7:00pm. Tickets: £3.50
Find out more about Axminster's historic links with the Jurassic Coast and discover how our understanding of fossils have been shaped by its residents, past and present.
Our speaker, Phil Davidson, studied Palaeobiology and Evolution at Portsmouth University before becoming the enquiries officer for the Palaeontology Department at the Natural History Museum. Around twelve years ago Phil moved to Axminster and began working at the Charmouth Heritage Coast Centre. He is currently the centre's senior warden.
https://www.eventbrite.co.uk/e/axminsters-link-to-the-jurassic-coast-tickets-152507707659