2021/2022 Heritage Alive Coach Trips
Join us on our popular Heritage Alive coach trips and enjoy exploring the many attractions on offer throughout the south west and beyond.
Our trips run every month on a Friday and are bookable from the Heritage Centre during opening hours. Due to their popularity payment is requested at time of booking. Below is a list of our 2021/2022 trips. For further information please scroll down to view details of each individual trip.
2021
September 24th 2021 – Swanage, £16
October 29th 2021 – Wookey Hole Caves, adults £29, seniors £28, children £26
November 19th 2021 – Dartington Crystal, Torrington, £18
December 3rd 2021 – Cardiff Christmas Market, £25
2022*
No coach trips January 2022 – March 2022
April 22nd 2022 – Coldharbour Mill, Uffculme, Devon
May 20th 2022 – Charlestown, Cornwall
June 25th 2022 – Buckler's Hard, Hampshire
July 22nd 2022 – Avebury and Silbury Hill, Wiltshire (this trip is part of the British Council of Archaeology's, Festival of Archaeology 2022)
**WEDNESDAY August 24th 2022 – Bristol
September 22nd 2022 – Castle Drogo, Devon
October 21st 2022 – The Shoe Museum, Street, Somerset
November (tbc) 2022 – Killerton, Broadclyst, Devon
December (tbc) 2022 – Bath Christmas Market
    *Prices are correct at time of printing and may vary.
**The date of this trip is to be confirmed, but is expected to take place on a WEDNESDAY due to the Bank Holiday.
SWANAGE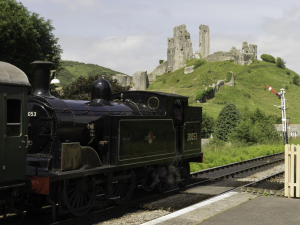 Friday 24th September 2021
£16 (coach only)

Join us this September as we visit the delightful seaside town of Swanage in Dorset. Passengers will alight at the town's regular weekly market and from there are free to spend the day exploring.
Hop aboard one of the full-size steam or diesel passenger trains operated by Swanage Railway and visit the iconic Corfe Castle as you ride the train through stunning Dorset countryside, or stay in Swanage and explore the town and enjoy a leisurely stroll along its Victorian pier.
Pick-Up Times
Dalwood – 8:30am
Kilmington – 8:40am
Gamberlake – 8:45am
Trinity Square – 8:50am
WOOKEY HOLE CAVES
Friday 29th October 2021
adults £29, senior £28, children £26*
*Price INCLUDES entrance into the caves.
With ghostly goings-on, spooky stories and eerie adventure . . . Wookey Hole Caves are the place to be this Halloween!!
Pick-Up Times
Dalwood – 8:45am
Kilmington – 8:50am
Gamberlake – 8:55am
Trinity Square – 9:00am
Millwey – 9:05am
Chard – 9:20am
DARTINGTON CRYSTAL, TORRINGTON
Friday 19th November 2021
£18 per person (coach only)*
Free entry into Dartington Crystal which is open daily from 10am.
Located in North Devon, Dartington Crystal are the UK's only remaining glass factory. Join us for this unique and fascinating experience – discover their history in the exhibition centre, watch skilled glass makers in action on the factory floor, and enjoy a bit of shopping before settling down to a tasty lunch in their relaxing cafe and restaurant.
Pick-Up Times
Trinity Square – 9:00am
Gamberlake – 9:05am
Kilmington – 9:10am
Andrewshayes – 9:15am
CARDIFF CHRISTMAS MARKET
Friday 3rd December 2021
£25 per person (coach only)
Join us for this festive coach trip as we visit Cardiff for their magical Christmas market . Stroll through the city's wide streets with its array of amazing shops, quaint Edwardian and Victorian arcades, restaurants and attractions all located within a 5 minute walk of the Christmas Market.
Pick-Up Times
Dalwood – 8:15am
Kilmington – 8:25am
Gamberlake – 8:30am
Trinity Square – 8:35am
Millwey – 8:40am
Poppe Inn – 8:45am
Chard – 8:55am
For further information please email Becca at: marketing@axminsterheritage.org or visit the centre, Mon – Fri 10am – 4pm or Sat 10am – 1pm.