WHAT DO THESE TWO BUILDINGS IN AXMINSTER AND OTTERY ST. MARY HAVE IN COMMON?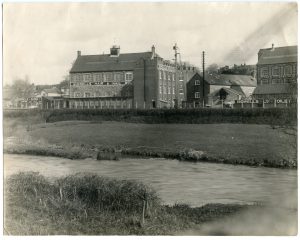 Image: Axminster Heritage Centre
Image courtesy of Sands of Time Consultancy
ANSWER:  Bidwell Brothers.
In 1889 Bidwell Brothers moved their successful brush business from Axminster and to pay for their expansion plans they sold shares to local Ottery residents. However, in 1893 a liquidator was appointed and Simeon Keetch and Robert Howarth purchased the business, operating as Keetch & Co. They accused James and Arthur Bidwell of stealing two brushes from the inventory and at Ottery Petty Sessions in October 1893 were fined £2.Their solicitor requested the fines be increased to £5 which the judge did. This increased fine allowed them to appeal the decision and in 1894 the Home Secretary granted them free pardons. In 1895 Keetch & Co. was declared bankrupt.
The brothers returned to Axminster and set up their company under the name Bidwell, Bidwell & Co, once again in the building they had left to go to Ottery St. Mary They stayed here until 1955 when the business closed.
More can be found out about the Axminster brush making companies at:
https://axminsterheritage.org/…/Brush-making-in-Axminster.p…
You can see some of their original toothbrushes in the Axminster Heritage Centre when we reopen.