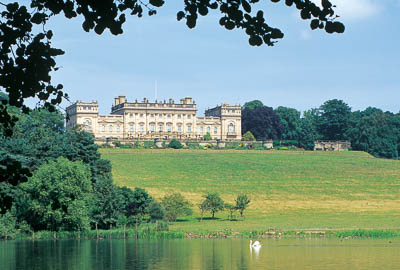 Harewood, Leeds, LS17 9LG (Website)
A country house in Harewood near Leeds, West Yorkshire, England. Designed by architects John Carr and Robert Adam, it was built between 1759 and 1771 for wealthy plantation owner Edwin Lascelles, 1st Baron Harewood. The landscape was designed by Lancelot "Capability" Brown and spans 1,000 acres (400 ha) at Harewood.
Still home to the Lascelles family, Harewood House is a member of the Treasure Houses of England, a marketing consortium for ten of the foremost historic homes in the country. The house is a Grade I listed building and a number of features in the grounds and courtyard have been listed as Grade I, II and II*.
Details
The Lascelles family claim to have arrived in England with William the Conqueror, during the Norman Conquest of England. The family had settled in Yorkshire by 1315 as the "de Lascelles". Prosperous members of the county gentry, the Lascelles served as members of parliament and held prominent military positions. In the late seventeenth century the family purchased plantations in the West Indies, and the income generated allowed Henry Lascelles to purchase the estate in 1738; his son, Edwin Lascelles, 1st Baron Harewood, built the house between 1759 and 1771
Edwin initially employed the services of John Carr, an architect practising in the north of England and previously employed by a number of prominent Yorkshire families to design their new country houses. The foundations were laid in 1759, with the house being largely complete by 1765. The fashionable Robert Adam submitted designs for the interiors, which were approved in 1765. Adam made a number of minor alterations to Carr's designs for the exterior of the building, including internal courtyards. The house remained largely untouched until the 1840s when Sir Charles Barry was employed by the Henry Lascelles, 3rd Earl of Harewood, the father of thirteen children, to increase the accommodation. Barry added second storeys to each of the flanking wings to provide extra bedrooms, removed the south portico and created formal parterres and terraces.
(Wikipedia)
Music Room
1791 24′ X 24'7″
A large circle filling the whole square carpet. This and the ten roundels within it mirror the ceiling design, as do the bell flower chains and the ten sided scalloped central design. Main Field – Olive ground with ten roundels containing two alternating designs 1) an eight petalled formal flower in rose and blue enclosed within a double band guard of rose and blue. 2) the same flower, smaller, surrounded by rose, blue and buff fan-pantera, enclosed within a double band guard of rose and mid-mauve. Bell flower chains loop between them and the border. Central design, formal, eight petalled flower in rose and blue centre to distinguish it from the flowers in the roundels.
---
Yellow Drawing Room
1790s 16'10" X 23′

A carpet which really does mirror the ceiling, not only in the basic geometric design of the panels but also in the ornaments – eg the central roundel with its anthemion and lotus surrounds and peltoid shields. Main Field of buff ground with huge olive star with its points in each corner, and a large circular central desgn. Bell flower chains loop round the central circle and the spaces between the arms of the star are filled with twirling acanthus coming from four wonderful peltoid shields in tan shades