Skelton on Ure, Ripon, Yorkshire, HG4 5AE (Website)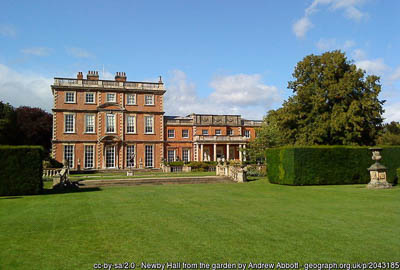 An eighteenth-century country house situated on the banks of the River Ure at Skelton-on-Ure, near Boroughbridge in North Yorkshire, England, and is a Grade I listed building.
The house contains a collection of furniture, painting and precious artefacts. The River Ure runs along the south side of the grounds, which have extensive herbaceous borders and woodland walks. The Georgian stable block, leased as offices, and the Church of Christ the Consoler are also Grade I listed. Newby Hall is open to the public from 21 March until 1 October.
Details
The manor of Newby was sold in the 1690s, following the death of Sir John Crosland in 1670, by the Crosland family to Sir Edward Blackett, MP for Ripon. He demolished the old manor house and in 1697 built a spacious mansion designed with the assistance of Sir Christopher Wren. He died in 1718 and was succeeded by his son Edward and he in turn by his nephew Edward. The latter sold the estate in 1748 to Richard Elcock (later Richard Elcock Weddell) and it passed from him to his young son William Weddell in 1762.
William Weddell (1736–1792), who became an MP for Malton, benefited from his great-uncle's South Sea fortune and improved and enlarged the house during the 1760s. The interior was remodelled and several architects contributed, including Robert Adam.[1] The building housed William Weddell's collection of Roman antiquities, which he brought back from Italy (1764–1765).[2] William died in 1792, leaving the estate to Thomas Philip Robinson, Lord Grantham, who later changed his name to Thomas Weddell and then to Thomas de Grey. When he died in 1859 his titles passed to his nephew, George Robinson, 2nd Earl of Ripon but Newby Hall went to his daughter, Lady Mary Gertrude Robinson. She married Henry Vyner (1805–1861).
(Wikipedia)
Tapestry Room
1776 17′ X 29′
Neo-classical, formal geometric design. An overall design of eighteen large linked octagons, containing identical formal rosettes in rose-pink on a buff ground. The 'squares' infilling between the octagons have a very small rosette in a square panel of pale blue on a tan ground. Main border is of linked hexagons on the same buff ground as the main octagons. Each hexagon contains a formal oval medallion on a rose-pink ground and the hexagons are separated by rose-pink anthemion sprays. Inner and outer borders – Greek key in shades of tan with small rosettes in each corner. Robert Adam's designs for the room are dated between 1769 and 1775. The drawing for the carpet is dated December 2nd 1775 and inscribed "Carpet for the Drawing Room at Newby"