Nr Exeter, Devon, EX5 2FE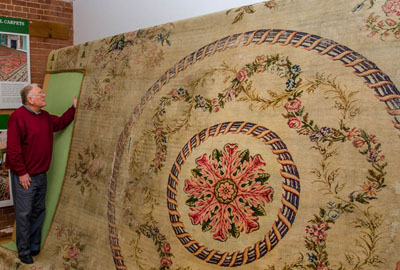 History
One of the original Axminster carpets was made in 1769 for Rockbeare Manor, Devon. The owner, Gerard Noel has generously loaned the carpet to Axminster Heritage saying he wanted it to 'come home' to Thomas Whitty House. Axminster Heritage are proud to be able to show this wonderful example of Whitty's work to the public.
Details
One of the 6 Landsdowne carpets, designer unknown, but noted similar to a design by Belanger, one of the Savonnerie designers, drawn for the Duchesse de Mazarin in 1777 and intended to be woven in England.
1769 19'1″ X 22'11"

The design is in three sections; a central square with identical rectangular panels across each end, all three sections separated and surrounded by a narrow husk/bell-flower border; and then everything enclosed in a wide, diamonded border.
Main field – Silver-buff ground, with the central roundel surrounded by four wicker baskets of natural flowers in each corner, and four beautifully delicate and identical rose sprays between. The flowers in the baskets are formally delineated by use of strong colours to outline and shoiw up different petals and parts of the flowers.
Central roundel – Small central rosette with eight rose-coloured acanthus leaves growing out of it, surrounde by a Roman fasces border in blues, buffs and mauves with russet and buff in the bindings. This surrounded by a continous floral garland intertwined with a sheaf garland; then an outer border again of the same fasces design.
Rectangular end panels – These are different from from the only two other 'Landsdowne' carpets which still retain their end panels, the carpets at the V&A Museum and at the Metropolitan Museum in New York. In these, the panels are entirely filled with a diamond shape. Here the design is far more delicate, with the outline of a small diamond in the middle, from which flow delicate arabesques, wreath shapes and lotuse flowers, with rose-coloured anthemion at each end of the panels. The panels are enclosed in a delicate zig-zag guard.