Stourton, Warminster, BA12 6QF (Website)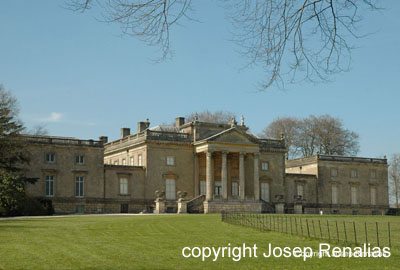 Although the main design for the estate at Stourhead was created by Colen Campbell, there were various other architects involved in its evolution through the years. William Benson, Henry Hoare's brother-in-law, was in part responsible for the building of the estate in 1719. Francis Cartwright, a master builder and architect, was established as a "competent provincial designer in the Palladian manner." He worked on Stourhead between the years of 1749–1755. Cartwright was a known carver, presumably of materials such as wood and stone. It is assumed that his contribution to Stourhead was in this capacity. Nathaniel Ireson is the master builder credited for much of the work on the Estate. It is this work that established his career, in 1720.In 1840, over a century after the initial buildings were constructed, Charles Parker was hired by Sir Hugh Hoare to make changes to the estate. A portico was added to the main house, along with other alterations. The design of the additions was in keeping with original plans.
Details
The Stourton family, the Barons of Stourton, had lived in the Stourhead estate for 500 years until they sold it to Sir Thomas Meres in 1714. His son, John Meres, sold it to Henry Hoare I, son of wealthy banker Sir Richard Hoare in 1717. The original manor house was demolished and a new house, one of the first of its kind, was designed by Colen Campbell and built by Nathaniel Ireson between 1721 and 1725. Over the next 200 years the Hoare family collected many heirlooms, including a large library and art collection. In 1902 the house was gutted by fire but many of the heirlooms were saved, and the house was rebuilt in a near identical style. The last Hoare family member to own the property, Henry Hugh Arthur Hoare, gave the house and gardens to the National Trust in 1946. (Wikipedia)
Saloon
1820s 28′ X 32'4″

A very large rectangular Saloon carpet. Indo-Persian design on a flame background.
Main field – has more than 14 different motifs incorporated into the design including three main palmette designs (flaming-halo type – two different large ones and one smaller) racemes, stylised leaves and flowers. All linked in a kind of tree-of-life framework lengthways up the carpet.
Main border – wide border on a russet ground (now looking orange) with a very flowing, open design of large pink and blue oriental-style ten petalled flowers on a continous green stem with buds and leaves.
Inner and outer borders – two alternating stylised rose-pink flowers, almost like palmettes, on a yellow-buff ground, with strapwork leaves and stems, staggered along the outer edge.
The carpet has been cut to fit round the columns at the window end of the Saloon, and also cut to trake it back from the fire-place.