Petworth, West Sussex, GU28 0AE (Website)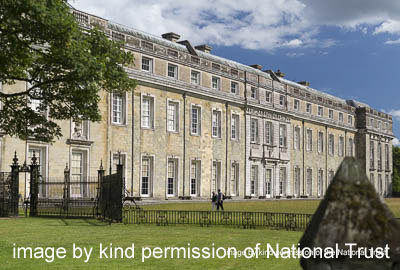 Today's building houses an important collection of paintings and sculptures, including 19 oil paintings by J. M. W. Turner (some owned by the family, some by Tate Britain), who was a regular visitor to Petworth, paintings by Van Dyck, carvings by Grinling Gibbons and Ben Harms, classical and neoclassical sculptures (including ones by John Flaxman and John Edward Carew), and wall and ceiling paintings by Louis Laguerre. There is also a terrestrial globe by Emery Molyneux, believed to be the only one in the world in its original 1592 state.
Details
A late 17th-century Grade I listed country house, rebuilt in 1688 by Charles Seymour, 6th Duke of Somerset, and altered in the 1870s to the design of the architect Anthony Salvin. It contains intricate wood-carvings by Grinling Gibbons (d.1721). It is the manor house of the manor of Petworth. For centuries it was the southern home for the Percy family, Earls of Northumberland. Petworth is famous for its extensive art collection made by George Wyndham, 3rd Earl of Egremont (1751-1837), containing many works by his friend Turner.
(Wikipedia)
White and Gold Room
1760s 16'4″ X 19'7″
An oval shape, with a brown ground, fills almost the entire carpet. It has an acanthus centrepiece. At both ends of the oval are grassy sheaves tied with blue ribbon and enclosing flowers. Two identical wide garlands of flowers lie around the inside edges of the oval. The main border is on rose-pink – oak leaves in buff and olive twining around a striped pole. Inner and outer borders – surrounding the oval and enclosing the main border, a version of egg and dart but perhaps intended to look like arched fluting. Outer border round the entire carpet is of squares with small rose-pink rosettes, alternating with rectangles filled with a acanthus leaf design in buffs and tans. Leaf fronds, ribbons and the character of the flowers are similar in feel to the Tabley and Wimpole carpets, both un-documented but probably dating from the 1760s. The brown ground also indicates an early date – a fashionable colour during 1760s, 70s and early 1780s.