Arrington, Royston, Cambridge, SG8 0BW (Website)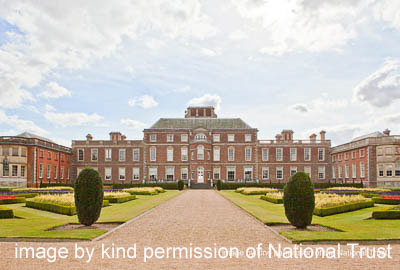 A country house located within the Parish of Wimpole, Cambridgeshire, England, about 8 1/2 miles southwest of Cambridge. The house, begun in 1640, and its 3,000 acres of parkland and farmland are owned by the National Trust and are regularly open to the public. Wimpole is the largest house in Cambridgeshire. Sited close to the great Roman road, Ermine Street, Wimpole was listed in the Domesday Book of 1086. At that time there was a moated manor house set in a small 81 hectares (200 acres) deer-park. Situated to the north and south of this were three medieval villages: Bennall End, Thresham End and Green End.
Details
The house was held by the Chicheley family for over 250 years. The last of this family to hold the house was the politician Thomas Chicheley, who was responsible for the 'new' house that was completed in 1650. He enjoyed the house for 36 years until, weighed down by financial problems, he was forced to sell to Sir John Cutler. In 1689, Sir John gave it as a marriage settlement to his daughter Elizabeth and her husband Charles Robartes, 2nd Earl of Radnor. On the death of Elizabeth in 1697, without an heir, the estate passed to Edmund Boulter, nephew of Sir John Cutler. In 1710 it was in the possession of John Holles, 1st Duke of Newcastle-upon-Tyne, who left it to his daughter Lady Henrietta Cavendish Holles upon his death the following year. Upon Henrietta's marriage, in 1713, it became the possession of her husband Edward Harley, 2nd Earl of Oxford and Earl Mortimer. In 1740, Edward sold Wimpole to the Earl of Hardwicke, to pay his debts. The Earls of Hardwicke held it until it passed into the hands of Thomas Agar-Robartes, 6th Viscount Clifden, and then his son, Francis Agar-Robartes, 7th Viscount Clifden. (Wikipedia)
Library
1764-70 36′ X 21'4″
Large floral design includes honeysuckle, passionflower, anemone, hyacinth, auricula, daffodil and sunflower. Flower filled cornucopias in each corner. Six blue, marble flower filled plinths, central at each end and two up each side, flanking flower filled shells. Two very large, fluted, flower-filled shells fill the space between the end plinths and the central roundel which has a large floral wreath with roses, tied with fluttering ribbons and enclosed within the central roundel. A single border with three banded inner guard in buffs and a 'beed and reel' outer guard. Made originally to fit a 9'1″ X 32″ fireplace although at some stage the opposite side was cut to fit another fireplace.