Quarndon, Derby, Derbyshire, DE22 5JH (Website)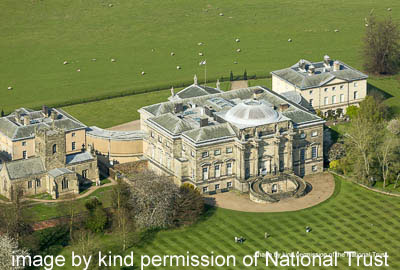 An English country house in Kedleston, Derbyshire, approximately four miles north-west of Derby, and is the seat of the Curzon family whose name originates in Notre-Dame-de-Courson in Normandy. Today it is a National Trust property.
Details
The Curzon family have owned the estate at Kedleston since at least 1297 and have lived in a succession of manor houses near to or on the site of the present Kedleston Hall. The present house was commissioned by Sir Nathaniel Curzon (later 1st Baron Scarsdale) in 1759. The house was designed by the Palladianarchitects James Paine and Matthew Brettingham and was loosely based on an original plan by Andrea Palladio for the never-built Villa Mocenigo. At the time a relatively unknown architect, Robert Adam was designing some garden temples to enhance the landscape of the park; Curzon was so impressed with Adam's designs, that Adam was quickly put in charge of the construction of the new mansion
(Wikipedia)
Drawing Room
Pre 1766 16'6″ X 25'9″
A floral carpet on a mosaic ground of octagons and squares in dark brown, mid brown and rose. Central ribbon tied bouquet of roses, an anemone and a striped tulip, surrounded by a garland of flowers and leaves. Large flower-filled cornucopias in each corner – two designs. Rose sprays and single flowers scattered on the hexagons in the remaining spaces. Border of floral poppies, roses, anemones, narcissus and other flowers on the dark brown ground separated from the main field by scrolling foliage. Outer guard is a pole and ribbon design.
---
Saloon
1770s

The Saloon is a rotunda that was designed in 1760 or early 1761 by Robert Adam. A square carpet 15'2″ X 15'4″ originally circular between 30′ and 42′ in diameter, made for the room. The whole design reflects the coffering of the dome and half domes of the Saloon. Main field is a mosaic of double octagons and small squares all containing rosettes. Large central circle with radiating acanthus enclosed in a narrow border of quatrefoils. This is surrounded by a mosaic of diamond lozenges again containing quatrefoils. The whole central design then enclosed in a two rope guilloche border with quatrefoils.