Aylsham, Norwich, Norfolk, NR11 6NF – Website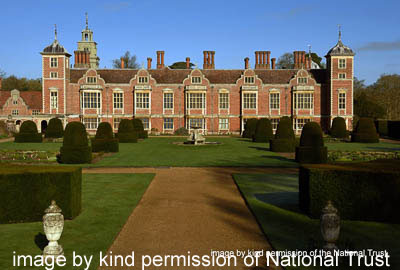 In the 15th century, Blickling was in the possession of Sir John Fastolf of Caister in Norfolk (1380–1459), who made a fortune in the Hundred Years' War, and whose coat of arms is still on display there. Later, the property was in the possession of the Boleyn family, and home to Thomas Boleyn, later Earl of Wiltshire, and his wife Elizabeth between 1499 and 1505. Although the exact birth dates of their children are unknown, historians including Eric Ives are confident that all three surviving children were likely born at Blickling – Mary in about 1500, Anne in about 1501, and George in about 1504. A statue and portrait of Anne may be found at Blickling Estate which carry the inscription, "Anna Bolena hic nata 1507" (Anne Boleyn born here 1507), based on earlier scholarship which assigned Anne a (now thought highly improbable) year of birth of 1507. (Wikipedia)
Details
The house of Blickling seen today was built on the ruins of the old Boleyn property in the reign of James I, by Sir Henry Hobart, Lord Chief Justice of the Common Pleas and 1st Baronet, who bought Blickling from Robert Clere in 1616. The architect of Hatfield House, Robert Lyminge, is credited with the design of the current structure. The Lord Chief Justice married Dorothy, the daughter of Sir Robert Bell of Beaupre Hall, Outwell/Upwell, Norfolk, Speaker of the House of Commons 1572–1576. A grand display of heraldic material is present throughout the estate.
Chinese Bedroom
1760s  13'6″ X 14'4
---
Peter the Great Bedroom
1780-1782  18'8″ X 31'3″

---
State Bedroom
1760s  15'6″ X 18′
---
Upper Ante Room
1765-70  14′ X 12′
Repeat pattern, on a mid-brown ground, of stylised oak leaves forming squares around a diamond-shaped, red rosette in the centre of one motif, and around a simple four-petalled cross in the next. The squares between the leaves have small blue and red diamond shaped figures in them. Each corner has a strange design of flaming pink and blue acanthus leaves with a trail of green and white rose leaves and buds. Central roundel of oak leaves encloses a swirling 8 petalled, buff flower with rose centre and tendrils of leaves and pink buds.